Date/Time
Date(s) - 23.05.2019
20:00 - 22:30
Location
CPO - Centre Pluriculturel et Social d'Ouchy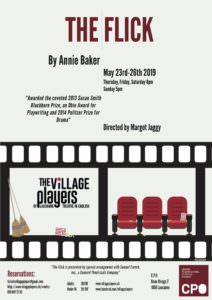 The Flick is a love letter to both theater and cinema. This bittersweet comedy takes place in a dilapidated movie theatre on the East Coast of the United States. Our three protagonists, the underpaid employees of The Flick theatre, shuffle through their monotonous daily grind, along the way discovering and revealing parts of their souls. They experience yearning, love and also betrayal. The Flick is a melancholy reflection on a world that, while becoming more digital everyday, is losing its patience, charm, and poetry. The play, written by Annie Baker, was awarded the coveted 2013 Susan Smith Blackburn Prize, an Obie Award for Playwriting and the 2014 Pulitzer Prize for Drama.
Note: Not suitable for children.
Tickets
There are two types of tickets:
– Standard Ticket for Adults: 30.00 CHF
There are special group rates with discounts. Please call 078 847 7730 or email to ticketsvillageplayers@gmail.com for group rates.
Payment
Payments are cash at the door.
Reservations
To make a reservation, please do one of the following:
– Fill in the online booking form below, and submit it.
– Email to ticketsvillageplayers@gmail.com, by stating your name, date of performance and the number of tickets you require
– Call or text to 078 847 7730, by stating your name, date of performance and the number of tickets you require
Access
There are numerous ways for accessing to CPO:
– CFF train to Lausanne station and 10mn walk down ave d'Ouchy
– Métro: m2 lines, at Délices metro station
– Bus n°2 stop Croix d'Ouchy
– Bus n°25 stop Elysée
– Parking in adjacent streets or Park & Ride in Ouchy
Bookings
Bookings are closed for this event.