Date/Time
Date(s) - 19.09.2019
19:30 - 21:30
Location
CPO - Centre Pluriculturel et Social d'Ouchy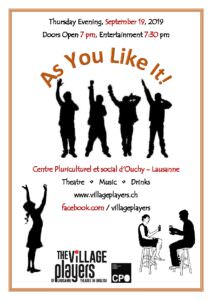 True to tradition, and following its previous successes, we are kicking off the 2019-2020 season with another As You Like It evening!! It will take place on Thursday, September 19th, starting at 7:30pm (doors and bar open at 7:00pm) at the CPO in Lausanne.
This is a relaxed evening of variety and fun, showcasing acts performed by… well, by anyone who wishes to have a go on stage! We have welcomed a lot of new talent to the Village Players over the past couple of years and the evening should be a good one, including of course time at the bar to see old friends after the summer break and get to know newcomers better.
There will be songs, dances, poetry, sketches, sonnets, stand-up, a trivia game – in fact something for everyone!
Come and join us for a fun evening.
Access by public transport
Metro Délices is a 2mn walk.
Lausanne station is 5-10mn walk
Bus no. 2 – stop: Croix-d'Ouchy and bus no 25 – stop Elysée.